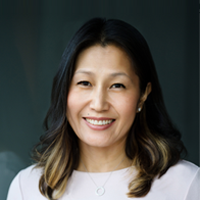 YEON CRAMER
BUSINESS OPERATIONS MANAGER
Yeon Cramer is the Business Operations Manager at Biomatics where she manages investor relations and business operations. Before joining Biomatics, Yeon spent six years at Bill Gates' private office in Seattle (Gates Ventures) working with leaders in communications, energy, health and science on major projects.
Previously, she worked as a Research Assistant at Farallon Capital, a San Francisco-based hedge fund.
Yeon is a seasoned administrator with over 25 years of experience in startups, hedge funds, and traditional asset managers. Yeon has extensive experience developing employee events and company retreats, as well as tapping into her resources, experience and network to solve problems for Biomatics and its portfolio companies.
Outside of work, Yeon and her husband have one daughter. They enjoy adventurous travel and expanding their culinary creativity together.